Ecommerce is growing and redefining online activities across the globe. Due to the increasing accessibility and Internet penetration, many people benefit from Ecommerce and the majority of online services. The rise in mobile devices, increasing personalization of consumer experiences, low cost of running an Ecommerce business altogether is boosting Ecommerce growth. The COVID-19 pandemic accelerated the shift to Ecommerce and is reshaping the structure of online shopping. To make your Ecommerce Marketing more effective, an experienced Ecommerce Marketing agency is to be hired.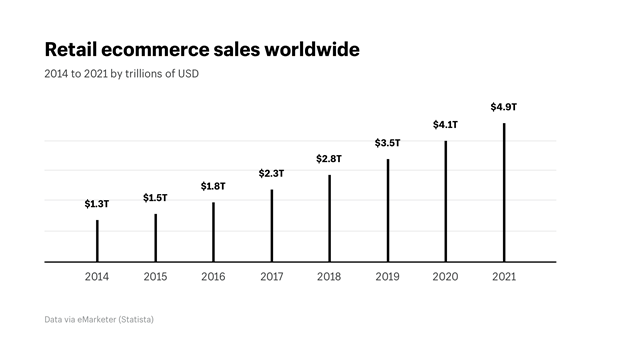 Ecommerce is transforming into a broad and diverse sector. Some major giants have established a monopoly and immense credibility. A few of the famous names in this Ecommerce race include Amazon, Alibaba, Walmart and eBay. Irrespective of location, these giants have redefined the retail industry.
This massive growth in Ecommerce industry has increased competition, and companies have started struggling to get customers for their business. Here comes the need for a smart Ecommerce agency or a trusted technology partner to guide you through the profitable implementation of your Ecommerce strategies. They can help you tap into the competition rapidly. Here is the list of some of the Ecommerce marketing agencies to help you find the top marketing partner for all your Ecommerce website needs.
Blue Fountain Media
Blue Fountain Media is one the best ecommerce marketing agencies that blends technology with imagination and delivers human-centric digital experiences. They are known for creating custom Ecommerce experiences for B2B and B2C businesses across all industry.
Popular for delivering unique Ecommerce solutions, which causes substantial shifts in ROI. They focus more on improved usability, conversion rate optimization, and increased traffic.
Neil Patel's NP Digital is an Ecommerce marketing agency that leverages online marketing, helping top brands exponentially grow. Their work is based on the speed and efficiency to meet the ever-changing needs of today's customers
The Disruptive agency is an Award-winning Ecommerce agency and an official Shopify Partner focusing on the growth of clients, employees and company. Their work strategy is based on understanding the clients business and goals and creating a unique marketing strategy
Inflow is an award-winning Ecommerce agency based in Denver focusing exclusively on the advertising and marketing aspects. They offer services including PPC, SEO and more. They have experts with significant industry experience, whether Search Engine Optimization, Conversion Optimization or paid advertising.
Juice
JUICE is an industry-leading integrated digital marketing agency that focuses more on maximizing ROI. This has helped its clients achieve success across user acquisition, Ecommerce, and lead generation campaigns. If you require a scalable, efficient Ecommerce marketing agency that brings in results, check out this Ecommerce agency.
Digital Silk
Digital Silk is a digital agency that offers everything from brand strategies to custom websites and apps with fantastic creativity. They deliver specialized digital marketing services, Ecommerce design and development, and software and app design and development services. Choosing Digital Silk as your Ecommerce Marketing agency will give you superior performance, greater engagement and conversions.
Mayple is a popular Ecommerce Marketing agency with an emphasis on assisting online businesses to scale up. They offer an entirely crystal clear experience with live dashboards, onboarding tools, and a built-in monitoring system so you can make sure your Ecommerce marketing efforts are paying off.
Ignite Visibility
Ignite Visibility is one of the premium service Ecommerce agencies in the industry. They signify both large and small businesses and concentrate more on producing custom solutions built to meet each client's unique business goals. They ensure high-touch expertise for every client and provides extreme results.
Sweans Technologies
Sweans Technologies is an Ecommerce marketing agency headquartered in London. They help their clients through the profitable implementation of unique Ecommerce strategies. Their client list includes some of the industry giants, including American Tourister, Samsonite, theCream and more.
Upgrow
Upgrow is an ideal Ecommerce marketing agency following some of the unique marketing processes that focus on brand discovery, preparing a strategic plan, reporting and tracking set up and optimization. They can design, create, optimize, and promote your e-commerce business.
Avex
Avex focuses exclusively on Ecommerce and they design, build and optimize e-commerce websites for beauty, luxury, lifestyle, and fashion companies. They are the Shopify Plus Partners, focused primarily on optimizing and marketing Shopify websites.
Things to consider while choosing the Top Ecommerce Marketing Agency for Your Business
Now you have the list of some of the topmost Ecommerce marketing agencies it is more important to know what your business need is. What are you looking for? This will help you make a final decision on choosing the best Ecommerce marketing agency. Here are some of the basic things you need to consider while searching for the best agency for your Ecommerce needs.
Success stories of the Ecommerce marketing agency can help you understand the agency and its work. Agency having a solid track record can be the best partner for all your Ecommerce needs.
The technical know-how of the Ecommerce marketing agency plays a major role in accomplishing the goals. So choose an agency with proven website design and development skills for Ecommerce.
You should look for Ecommerce marketing agencies with a strong portfolio for your Ecommerce requirements.
Before starting your search for a trusted Ecommerce marketing agency be sure with your business goals. Don't wait for the agency to help you discover and refine your goals.
Choose an agency proactive in their communication.
Remember that the best marketers are their own clients first. Look at the agency's website and you will understand their capability.
Conclusion:
We have ranked these leading Ecommerce marketing agencies based on the quality of their portfolios, client feedback, reviews and more. Invest your hard earned money with the right Ecommerce marketing agency and let us know how it helped your business growth skyrocket.