2020! Of course a strange year for everything. Don't you feel the same? The unfortunate situation of COVID pandemic has adversely affected all the areas of business and personal life. However can you guess the most amazing sector which has seen a boost in this drastic situation? Yes, true …it's the online buying and selling sector which has benefited from this unfortunate pandemic.Ecommerce sales has skyrocketed in 2020 and it will boom hereafter.
Countries were locked down and everything was forced to close. Ecommerce reached an all-time high global retail sales and according to a global survey above 80% of the consumers shopped online during COVID-19. Digital competition is heating up as legacy wholesalers go online and retails giants have started expanding their initiatives.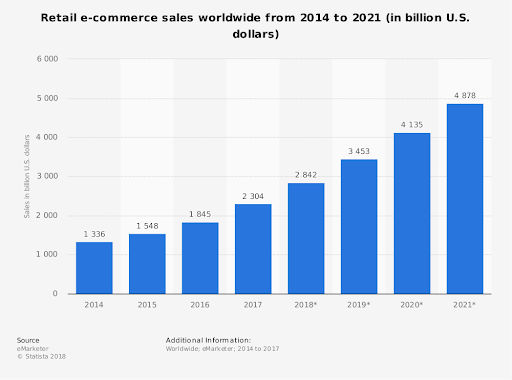 So have you utilized these opportunities? If not let me take you through the future trends of Ecommerce and help you understand the ever-changing landscape of Ecommerce.
1. Explosion of mobile shopping
Mobile shopping is a significant Ecommerce trend rising these days. Mobile sales are expected to make up almost a huge percentage of all Ecommerce deals. It is becoming the most important part of Ecommerce and those retailers who have not improved their websites mobile responsiveness for customers are missing out a growing segment of shoppers and potential sales. For Ecommerce business it's time to invest in improving their mobile experience offered to their customers. Contact Sweans and we will be happy to help you.
2. More personalized experience
Personalization has a huge impact on advancing customer relationships. To keep your customers satisfied you need to personalize their online shopping experience. Dynamically showing the content, different product recommendations, purchase history, offers based on customer's previous actions and more leads to a more personalized experience for a buyer. This kind of personalization will tend to increase the engagement of the shoppers, increase conversions and repeat purchases driving more sales.
3. Augmented Reality a game changer for Ecommerce
AR is changing the shopping experience of the customers as they can get a better feel of the items they are looking to purchase without seeing that item in person. Gartner's prediction in 2019 was that 100 million consumers will shop with AR in 2020 and it will be exciting to see this statistics shake out the coming years. With AR give your customers a chance to instantly see the item overlaid wherever they point their mobile device which will drive more conversions.
4. Voice Search on rise
Most of us now a days rely more on smart speakers and voice assistants to complete our daily tasks. These assistants do everything you ask them to do. Voice commerce sales are anticipated to reach billions in these coming years. Growth in accuracy and convenient technology both are the vital reasons of rising voice commerce. Pushing regional languages into their virtual assistants Amazon and Google are helping consumers shop more conveniently. Hence optimizing your online store for voice search and offering voice based navigation both are essential to prepare your Ecommerce website for voice commerce.
5. Role of social media in Ecommerce bandwagon
Social shoppers are increasing day by day. Introduction of Buy button on Facebook has played a significant role in the world of Ecommerce. Social media has a huge impact on the way consumers buy things. Improving the presence on social media can help brands to get discovered. Consumers spend most of their time on different social media platforms and Ecommerce business can get help from the social media influencers to increase the chances of getting discovered by the target audience.
6. Different payment methods
We all have our needs but when it comes to payment process and are not able to pay how we want we might cancel our purchase. Isn't it? Increasing conversion rate also depends upon wide variety of payment methods offered by you to your customers. Payment options are also the main reasons why customers choose a specific brand to purchase. Digital wallets are accepted by most of the Ecommerce businesses apart from the debit and credit cards.
7. Videos a great way to increase engagement
Videos have always proved to be a useful media to engage customers. Product videos are essential in Ecommerce today. Informing your customers about your product and service with an eye-catching video is a powerful way to stand out among the competitors. Use of Podcasts, short video content is increasing as they act as a solution to the problem of a buyer. Adding videos into your Ecommerce store will help you to increase the engagement and definitely increase the product sales.
8. Green Consumerism in Ecommerce
Consumers these days are getting much aware of the environmental hazards and an Ecommerce store being environmentally friendly positively affects online sales. Green consumerism wave is the new trend not to be missed out by an Ecommerce business. Consumers are more interested in brands who take pride in green efforts. Reduce your carbon footprint and start participating and promoting various green initiatives. There are some easy steps including online-only receipts or adopting eco-friendly packaging to become the part of this Green Consumerism.
The future of Ecommerce
Booming Ecommerce business depends upon improving, streamlining, and remaining current with the trends. More and more brands are joining the Ecommerce bandwagon. This will help customers to have access to millions of brands at their fingertips which means every Ecommerce business owner has to be creative, thoughtful and innovative enough to beat the competition. So is your Ecommerce store ready? Contact Sweans and we will be more than happy to be your Trusted Technology Partner for all your Ecommerce implementation needs.