Navigating the bustling web design landscape of London can be as challenging as meandering through the city's historic streets—but equally rewarding. In my quest to highlight the crème de la crème of web design agencies, I embarked on an exhaustive research journey, sifting through a tapestry of digital expertise. With the keen eye of a curator, I combed through Google, Bing, and authoritative directories like Clutch and DAN, setting my sights on agencies that not only showcased stellar websites and compelling case studies of their own but also boasted brick-and-mortar presences within the heart of the metropolis.
As I trimmed my list, prioritizing those with tangible footprints in London, it became clear that I was crafting a narrative that went beyond mere aesthetics—it was about tangible results, verifiable expertise, and the palpable buzz of creativity that one can only find in agencies that truly understand the pulse of this dynamic city.
This article isn't just a list; it's an intricate mosaic of talent and vision. The top 10 web design agencies I've selected are not merely placeholders — they're beacon lights of innovation and dedication. While some deserving names might have eluded my initial sweep, my commitment to inclusivity remains. To those unsung artisans of the web who may have slipped through the net—reach out. Your story deserves to be told, and I'm here to listen.
So, before we delve into the heart of each agency's narrative, let me walk you through the parameters that sculpted my decision-making process. From the versatility and creativity of their portfolios to their proficiency in the latest digital tongues and from their demonstrated SEO savvy to their ability to speak the language of brands fluently. Each of these benchmarks played a pivotal role in whittling down to the final, distinguished list of London's finest web design architects. Join me, then, as we uncover the stories behind these bastions of digital craftsmanship that stand proudly within the city that never stops creating.
Table of Contents
1. Sweans: Pioneers in Digital Innovation and Global Digital Solutions
Company Overview
Name: Sweans
Website: sweans.com
Headquarters: London
Established: 2006 in Delaware, moved to London in 2014
Global Footprint: Presence in over 64 countries
Clientele: 3000+ clients, including top global brands
Accolades: Muse Creative Awards, recognized by 'Clutch' for social media marketing
Services and Methodology
Holistic Approach: Discovery, Design, Development, Optimization, and Scaling
Service Range: Analytics Research, Branding, Web Design and Development, Digital Marketing
Specialization: Open-source CMS (WordPress, Drupal), eCommerce (Shopify, WooCommerce), Client-side (JavaScript, jQuery, Angular), Server-side (PHP, Node), Databases (MySQL, MongoDB)
Portfolio and Case Studies
High-Profile Projects:
Client Testimonials
Sweans is praised for its innovative strategies that increase brand recognition and foster impressive growth in web traffic, social media following, and app downloads.
Expertise and Experience
A team led by industry experts, including UX designers, full stack developers, SEO specialists, and content creators, all working under visionary leadership.
Certifications and Partnerships
Certifications: ISO 9001, ISO 27001, Cyber Essentials, ICO
Accreditations: Accredited Living Wage Employer
Tech Partnerships: Google Partner, Klaviyo Partner, Shopify Partner, Kinsta Partner
High-Profile Clients
A prestigious client list boasting names like Porsche, Omega, McLaren, Nike, Land Rover, Walt Disney, McDonald's, National Geographic, and more.
Industry Associations
Nasscom, DAN, Clutch Top Agency, Drum, Living Wages employer
Locations
Offices in London, Delaware, India, Dubai, Kuwait, Delhi
Awards
Multiple accolades, including Top Web Developers (2017), Top B&B Agency (2018), Top Marketing Agency (2019), Silver Award for Marketing & Promotions by Muse (2020), and Muse Gold Award for Website (2023).
Technology and Tools
Proficiency in WordPress, Shopify, PHP, full stack development, React, Angular, MongoDB, Express, Node
Social Media Presence
Sweans maintains a robust social media presence with 10K followers on Facebook, over 2.5K on LinkedIn, and active portfolios on Dribble and Behance.
Sweans emerges as a formidable force in the realm of digital innovation, wielding a comprehensive suite of services tailored for an international clientele. Their prestigious partnerships, high-profile clients, and a strong emphasis on quality and security underscore their position as leaders in the industry. With a diverse range of technologies and tools at their disposal, and a creative and technical workforce spearheaded by accomplished leaders, Sweans is adept at driving digital success. Their dynamic social media presence and multiple awards reflect an agency at the forefront of digital trends, committed to delivering results that resonate on a global scale.
2. Plug & Play: Leading Web Design Agency in the Heart of London
Company Overview
Name: Plug & Play
Website: plugandplaydesign.co.uk
Specialization: Plug & Play excels in Branding, Web Design, E-commerce, and Digital Marketing. With their main office likely in Guildford, they've expanded their prowess with two additional London offices – one on the South Bank and another near Tottenham Court Road.
Leadership and Team
The team at Plug & Play is helmed by the talented Peter Richman (Managing Director), James Nixon (Creative Director), Philip Marklew, and Gabrielle Davenport. Their expertise has shaped the agency into a notable force in the UK's digital sector.
Portfolio and Case Studies
Notable work includes innovative projects for UK companies like Powerleague. Highlights in their portfolio are the headless Shopify solution for Cole & Son and the development of Property Hub, an advanced property investment application.
Client Testimonials and References
Their impressive clientele list features major names like WWF, Tesco, and Shell, showcasing their ability to cater to diverse and demanding digital needs.
Awards and Recognition
Plug & Play's excellence was acknowledged as a finalist in the British Business Excellence Awards in 2023. Additionally, they've earned accolades from The Drum and CSS Design Awards, cementing their status as a leader in the web design industry.
Cultural and Ethical Alignment
With a strong UK presence and employees across London, Guatemala, Mexico, and Bangladesh, Plug & Play demonstrates a commitment to global diversity and a broad cultural understanding, vital for contemporary web design and digital marketing.
Agency's Own Online Presence
While their social media presence includes 5,235 followers on LinkedIn and a reasonable following on Dribble, their activity is more subdued on other platforms, with 1,122 followers on Platform X, 662 on Instagram, and 509 on Facebook. Notably, their last Facebook post was in December 2022, indicating a selective approach to social media engagement.
Scalability, Experience, and Expertise
Plug & Play's capacity to work with a range of clients, from startups to large corporations, combined with their extensive experience in branding, web design, e-commerce, and digital marketing, positions them as a versatile and skilled agency.
3. Kota: Innovative Creative Digital Agency
Company Overview
Name: Kota
Website: kota.co.uk
Founded: 2013
Headquarters: London
Size: Small agency with under 20 employees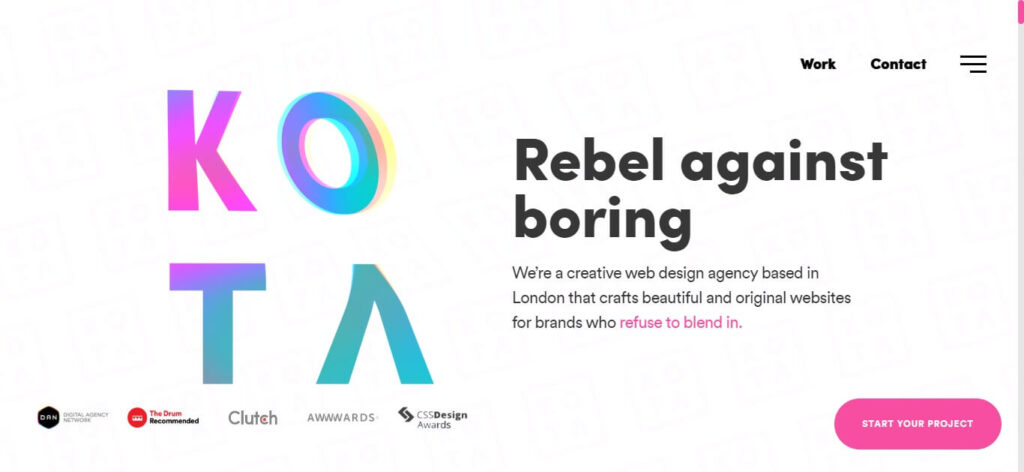 About
Kota, a dynamic creative digital agency, was established in 2013. Known for blending compelling design with technical brilliance, Kota excels in driving business success both online and offline. With the essence of big agency strategy, creative technology, and a flexible, responsive approach, Kota embodies the perfect mix of artistic flair, geek prowess, and innovative thinking.
Portfolio and Case Studies
Their project highlights include creating an engaging eCommerce site for Wogan Coffee and developing compelling websites for clients like Pixel Artworks, DK&A, and Mercury Filmworks.
Client Testimonials and References
Kota's excellence in delivery is echoed by its clientele, with the Communications Manager of SuperYachtsMonaco praising their expertise. The Branding Section Head at Hassan Allam Holding highlights their exceptional creativity and attention to detail. With a Clutch profile showcasing 15 reviews, testimonials from the Marketing Manager at Little's Coffee, the CEO of Adams & Butler, and the Head of Digital at Sullivan & Stanley further endorse their prowess.
Experience and Expertise
Specializing in Branding, Digital Marketing, and Website development, Kota offers a wide array of services catered to enhancing digital presence and brand image.
SEO and Digital Marketing Expertise
Kota's SEO skills are top-notch, evident from ranking their own site at the top of Google search results for "Web design agencies London."
High-Profile Clients
Their clientele includes renowned names like Jamie Oliver, Comptoir, Bounce, Penguin Random House, the British Red Cross, and Tangerine.
Cultural and Ethical Alignment
With a team distributed across London, India, Rajasthan, and Kota, they embrace a globally diverse and culturally rich workforce.
Agency's Own Online Presence
Kota maintains an active online presence across platforms like DAN, Clutch, and Drum, showcasing their engagement across most networks.
Location
Offices are situated in both London and New York, providing a broad base for international and local client interactions.
Leadership and Team
The agency's strong team is led by MD Jonathan Bradford, Ed Shropshire (Design Director), James Piper (Creative Director), and James House (Head of Design), amongst others.
Social Media Pages:
Kota's social media outreach is impressive with 1,958 followers on Platform X, where they share their portfolio and employee activities. They also have 4,541 followers on Instagram and 5,251 on LinkedIn, illustrating a robust engagement with their audience.
4. JBi Digital: Leading the Way in Digital Transformation
Company Overview
Name: JBi Digital
Website: jbidigital.co.uk
Founded: 2008
Location: The agency boasts a presence in London, with teams based both in the UK and India.
Partnership: No notable partnerships are mentioned on their website.
Team: The team is led by David, the Managing Director, and Raj, the Operations Manager.
About
As a premier digital transformation agency based in London, JBi Digital stands out for its dedication to creating exceptional digital experiences. The agency's award-winning team is recognized for their expertise in catering to global brands, major public sector entities, and leading charities. Emphasizing a user-focused, results-driven approach, JBi Digital excels in solving complex digital challenges and contributing significantly to their clients' successes. Known for their agility, energy, and forward-thinking strategies, this independent agency adapts seamlessly to various organisational needs.
Portfolio and Case Studies
Women in Banking and Finance (WIBF): Website design, development, and optimization leading to a 174% increase in new users.
Thomas's London Day Schools: Development of an innovative, tailored mobile app.
Partnership with Hitachi: Selected to partner with Hitachi for digital operations in Europe, including strategic and technical support, creative enhancements, and UX improvements for their Drupal website.
Client Testimonials and References
Kate Thomas, Director of Marketing at Thomas's London Day Schools, lauds JBi Digital's ability to understand and materialize the vision for a unique school app, reflecting their capacity to grasp and execute complex and novel ideas.
Experience and Expertise
JBi Digital's areas of expertise encompass Web Development, Digital Advertising, Web Design, Online Marketing, Technology, Branding, SEO, Magento, Social Media, and Digital Strategy.
Cultural and Ethical Alignment
JBi Digital operates primarily in the UK, bolstered by a talented team in India, demonstrating a balanced blend of local expertise and global insights.
Agency's Own Online Presence
JBi Digital maintains a solid presence across various media channels, emphasizing their broad reach and online engagement capabilities.
Social Media Pages
JBi Digital's social media strategy appears selective, with 1,114 followers and their latest tweet in April 2023, indicating minimal activity on Twitter. Their LinkedIn presence has similarly seen a decline in recent activity. However, they maintain an active Instagram presence, showcasing team activities and client portfolios.
5. The Web Kitchen: Crafting Inspiring Digital Experiences
Company Overview
Name: The Web Kitchen (TWK)
Website: thewebkitchen.co.uk
Location: Central London, Great Portland St, Marylebone
Founder: Rob Stone
Team Size: 20 digital experts
Founded: 2009
Company Ethos and History
The Web Kitchen, founded by Rob Stone, began as a four-person team operating from an old service station in Shepherd's Bush. Today, it has grown into a tightly-knit group of 20 digital experts. Despite expanding its portfolio and expertise, TWK remains committed to being a boutique agency, focusing on high-quality, ethos-aligned projects.
Clients
Their diverse range includes Ella's Kitchen, Firefly Drinks, Veuve Cliquot, global media giants like JCDecaux, Publicis Media, Liberty Global, and esteemed educational institutions including the Universities of Oxford and Cambridge, and Wellington College.
Key Projects
Liberty Global: Undertook design, development, and SEO. Liberty Global is known as the world's largest TV and broadband company, owning various brands across Europe, including Virgin Media in the UK.
Educational Institutions: Developed websites for notable schools and colleges such as Cheap School, Bradley College, Hallfield School, Cranleigh School, and Wellington College.
Experience and Expertise
Specialized in WordPress website design, TWK expertly combines design and technology to forge engaging digital experiences, particularly notable in the educational sector.
Awards and Recognition
TWK was celebrated as the Web Award Winner 2023 for their exceptional work on the Wellington College website.
Clientele and Case Studies in Relevant Industry
TWK predominantly focuses on websites for schools and colleges, marking a niche expertise in the education sector.
Agency's Own Online Presence and Social Media Pages
TWK's specific social media presence and activity aren't mentioned. However, considering the dynamism of their work and clientele, an engaging online presence across various platforms is anticipated.
Special Notes
From its unique beginning to its current status as a boutique digital agency, The Web Kitchen's trajectory and portfolio reflect a consistent dedication to quality, innovation, and a deep understanding of its clients' worlds – particularly in the education and high-profile brand sectors.
6. Together Agency: Crafting Connections Through Digital Innovation
Company Overview
Name: Together
Website: together.agency
Location: London, England
Service Focus: Full-service agency specializing in brand-building, website creation, and digital product development for technology companies.
Philosophy and Approach
"Together" isn't just the agency's name; it's their core philosophy. Centered on creating deep connections between their clients and their customers, Together Agency emphasizes digital-first branding, storytelling websites, and innovative digital products that not only deliver on promises but also resonate with users.
Portfolio and Case Studies
Notable Projects:
Fintech Company Unit: Exemplary work in branding, positioning, and website design.
Stytch (Password Manager Tech Company): Standout in branding, copywriting, and design.
Additional Works: Impressive projects for Mosaic (a strategic finance platform), Coast (a fintech product), and Zipline (a technology company).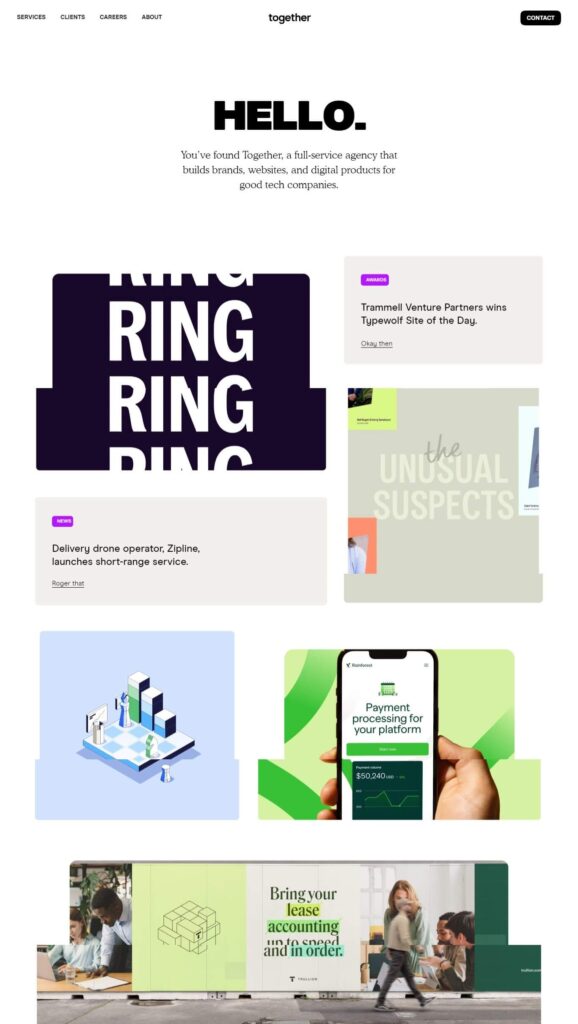 Client Testimonials and References
Feedback from the Head of Product & IP at a Financial Institution highlights the positive impact of Together Agency's collaboration on their projects.
Experience and Expertise
Broad array of services including:
Brand Story and Strategy
Tone of Voice
UX Architecture
Copywriting
Design & Animation
Research & Development (R&D)
UX/UI Design
Content Strategy
High-Profile Clients
Their client list boasts significant names like Repool, Hubble, Astra, Slope, and HP, showcasing their capacity to handle big-league projects.
Social Media Presence
LinkedIn: 9,742 followers, indicating a strong professional network and reach.
Instagram: 1,001 followers. Though their activity here isn't very prominent, their presence still marks their brand's digital footprint.
Unique Selling Points
Together Agency stands out for its holistic, integrated approach to digital solutions, focusing on creating meaningful connections through storytelling, design, and technology. Their work with notable fintech and tech companies, coupled with their comprehensive service range, positions them as a leader in the digital agency space, especially for tech-focused clients.
7. CB Website Design: Crafting Exceptional Digital Experiences
Company Overview
Name: CB Website Design
Website: cbwebsitedesign.co.uk
Location: Based in London, ensuring a strong presence in a major global business hub.
Service Focus: Specializes in bespoke website design and development with a commitment to creating web experiences that are both inspiring and engaging. Emphasizes a custom-tailored process from project inception to completion, ensuring design satisfaction.
Portfolio and Case Studies
Signature Campaign
"Welcome to Great" Business Support Campaign: A highly acclaimed business campaign in the USA.
Key Projects
Gibraltar Upper Rock Nature Reserve: Interactive e-commerce platform development.
Alvarium: Investment firm website design.
First Jet: Website development for a private jet charter company.
Egg Truck: Website for a food service truck in London.
Client Testimonials and References
PMO, Renewable Energy Company (Adriano Barros): Praises for creative and technical excellence.
Founder, Healthcare & Consultancy Company: Commends their creative approach.
Director, Studio Hall: Highlights their reliability in delivering promises.
Experience and Expertise
Core competencies in website design, branding and design, SEO services, hosting, and e-commerce solutions.
Awards
Recognized with awards from Awwwards, CSS Winner, and CSS Design Awards, reflecting a high standard of excellence in design and creativity.
Partnerships
Collaborations with Google Partner and Digital Agency Network, demonstrating their reputable industry connections and commitment to staying at the forefront of digital trends.
Social Media Presence
Facebook: 155 followers
Instagram: 446 followers
Despite a limited social media reach, their online presence is marked by a focus on quality and engaging content rather than mere numbers.
CB Website Design stands out for its bespoke and user-centric approach to web design and development, highlighted by their award-winning projects and campaigns. Their ability to seamlessly integrate creativity with technical precision positions them as a formidable player in the London web design landscape, catering to a diverse range of clients from nature reserves to investment firms. Despite a smaller social media footprint, their industry accolades and client testimonials speak volumes about their capability to deliver impactful digital solutions.
8. Wildish & Co.: Igniting Brands with Creative Passion and Purpose
Company Overview
Name: Wildish & Co.
Website: wildishandco.co.uk
Location: London, England
Service Focus: Independent creative agency known for branding, campaigns, digital design, and development. With a mission to transform businesses into beloved brands, they offer a full spectrum of creative services.
Target Clients: Aligns with game-changers, challenge-takers, and particularly those engaged in sustainable or environmental initiatives.
Company Size: 12 employees
Founded Year: 2012
Philosophy: Commenced with the vision of making a positive impact through creativity, Wildish & Co. seeks collaborations with partners who champion sustainability and innovative thinking.
Portfolio and Case Studies
Brilliant Planet: Development of a brand-new identity and website. The company, based in the deserts of Akhfennir, Morocco, operates with a unique sustainability model.
Zuprp: Mobile app creation for a fintech project, showcasing their versatility in digital product development.
Prowly: Website design for this company recently acquired by Semrush, indicating their capability to deliver in high-stakes, high-profile scenarios.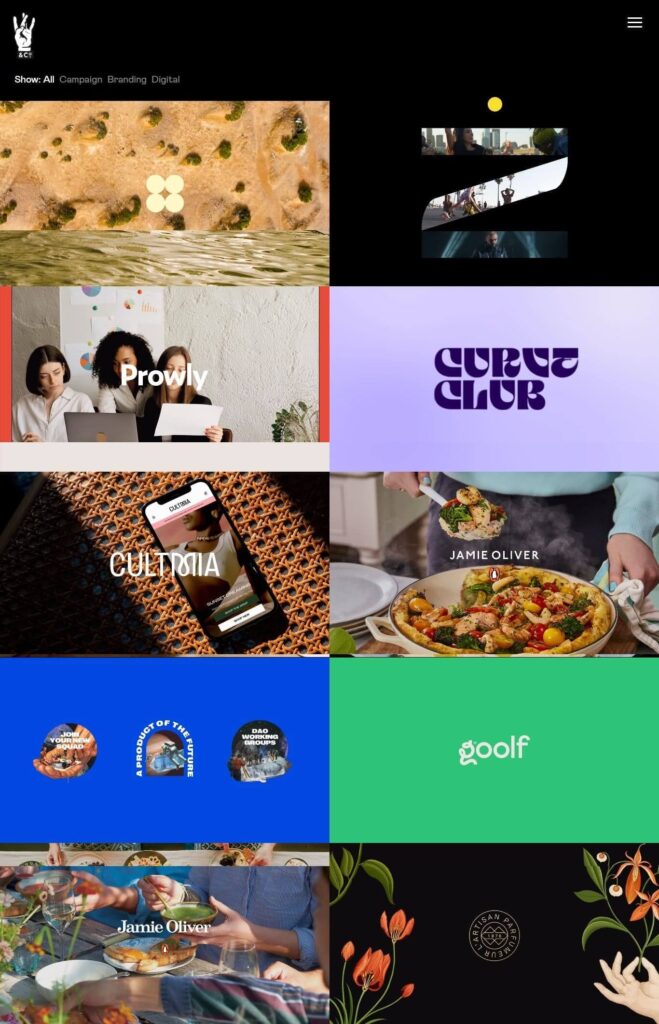 Client Testimonials and References
Rice and Roman Ltd (Director, Joshua Rice): Impressed by the team's work ethos and output.
CEO, Environmental Services Company: Praised Wildish & Co. for their professionalism, organization, and timely delivery in a rebranding and website development project.
Experience and Expertise
Specializations in Illustration, Design, Viral Marketing, Web Development, Branding, Print, and Strategy.
Key Areas: BRANDING 🟡 STRATEGY 🟡 CAMPAIGNS 🟡 DIGITAL
Location
Based in the heart of London, ideally situated for collaborations with a diverse client base ranging from startups to global giants.
Wildish & Co. distinguishes itself through its commitment to creativity with a cause, particularly favoring projects with sustainable and environmental angles. Their expertise spans a wide range of design and digital solutions, tailored to change-making brands. As a small studio with a substantial impact, they embody the blend of creative zeal and purpose-driven strategy, appealing to clients seeking to make a meaningful impact in their sectors.
9. London Web Design Agency: A Blend of Creativity and Technical Savvy
Company Overview
Name: London Web Design Agency (LWDA)
Website: londonwebdesignagency.com
Location: The agency operates from Chiswick, London, offering both a local touch and a global reach.
Service Focus: Offers a comprehensive suite of web services including design, development, branding, SEO, and hosting, with a specialization in WordPress, WooCommerce, and Shopify.
Established on: Since 2004
Leadership
Greg MacDonald: MD & Project Manager with over two decades in interface design, web design, and development.
Stuart Watkins: Founder and CEO, orchestrating the agency's vision and direction.
Alex Nul: Creative Director, spearheading innovative design strategies.
Callum Tellwright: Brand Strategist and Design Lead, driving the branding excellence.
Portfolio and Case Studies
Griffiths Eccles: Full website design and development for the Central London chartered surveyor and commercial property consultancy.
Kingly Partners: Tailored property consultancy web solutions reflecting their established presence in Central London.
De Havilland Gin: E-commerce platform creation, demonstrating LWDA's expertise in online retail spaces.
Eye Lid Face: Brand identity project showcasing their versatility in branding.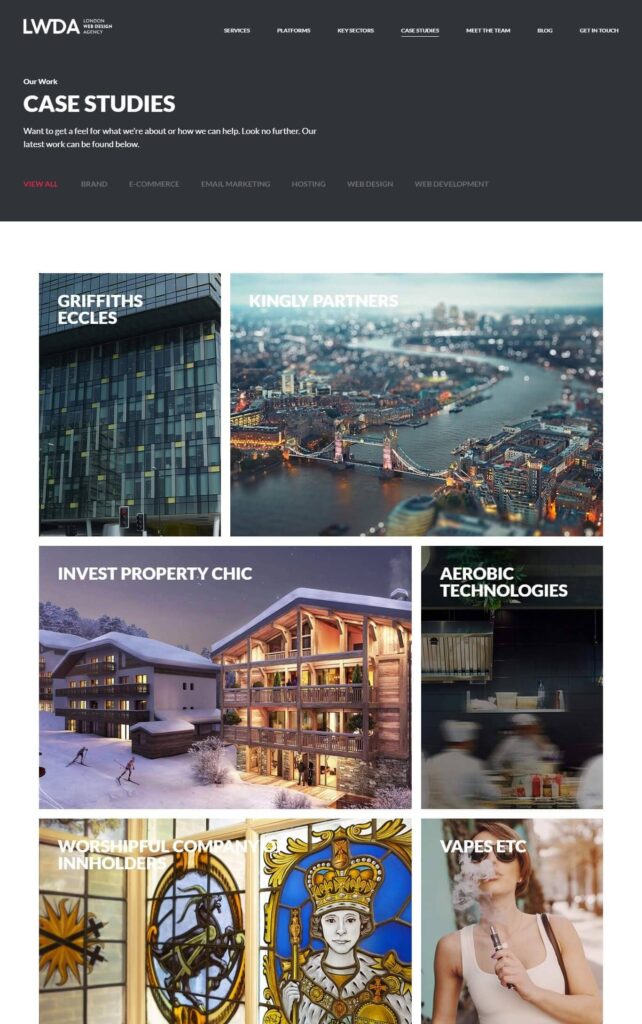 Client Testimonials and References
Marc Oppenheim: Director at Blue Reef Capital commends Greg Macdonald and LWDA for their exceptional and professional work spanning nearly 15 years.
Experience and Expertise
Design & Development: Specializing in web design, user experience (UX), user interface (UI), and conversion rate optimization (CRO).
Marketing & Branding: Competent in SEO, branding, copywriting, content production, and email marketing.
Technologies: Proficient with WordPress, e-commerce, bespoke development, and Webflow.
Notable Clients
The agency has served a diverse array of clients including property companies, gin brands, technology firms, and community organizations.
Accolades
Recipient of the Web Excellence Award, testifying to their commitment to delivering high-quality web solutions.
Social Media Presence
LinkedIn: 421 followers, providing insights into the agency's professional network.
Facebook: 66 likes and 75 followers, a growing community engaged with their brand.
The London Web Design Agency stands out with its deep roots in the digital landscape and an extensive track record since 2004. They leverage their expertise to offer tailored solutions to a range of clients, particularly excelling in the real estate and property domain. Their ability to combine effective design with powerful web development platforms like WordPress and Shopify positions them as a competitive player in the London web design market. With a leadership team boasting decades of experience and a creative edge, LWDA is poised to deliver digital transformations that resonate with their clients' objectives and exceed their expectations.
10. ID Studio: Crafting Digital Excellence in the Heart of London
Company Overview
Name: ID Studio
Website: netdreams.co.uk
Specialty: A blend of creative web design and robust back-end development, offering comprehensive digital solutions.
Mission Statement: Dedicated to providing premier web design and development services by understanding clients' ideas and objectives.
Location: Positioned strategically in Southwark, London, ID Studio is at the confluence of creativity and commerce.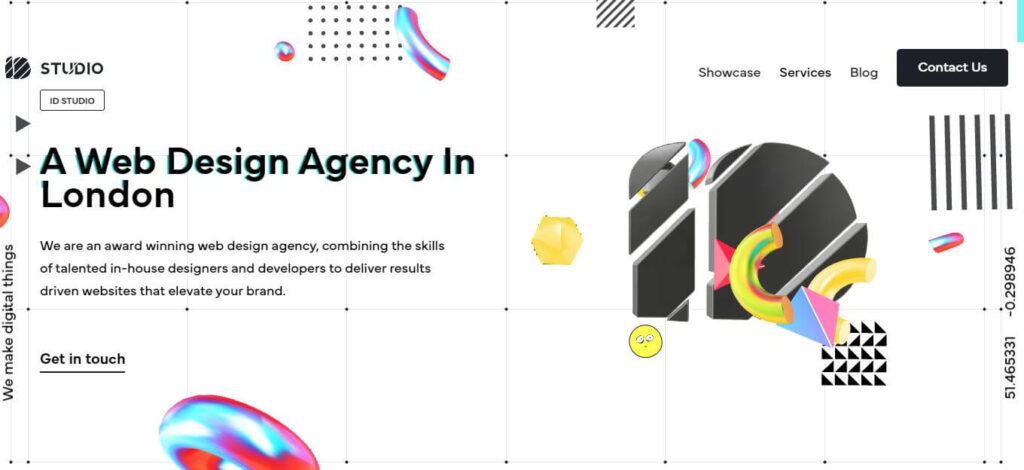 Portfolio and Case Studies
The Diary by Steven Bartlett: Both web and mobile product design and development to encapsulate the brand's ethos.
Product Madness: A full rebrand and front-end development with an emphasis on interactive elements using Three.JS & canvas development.
Kinross House: Modernization of the brand and web presence, with a focus on sleek design and illustration.
Ralph Lauren: Development of a dynamic landing page to cater to the brand's sophisticated clientele.
Client Testimonials and References
Greg Clarke: Highlights ID Studio's professionalism, quality, responsiveness, and value, contrasting them positively against a previous agency.
Camilla Kastrup: Praises their creativity and outstanding customer service, emphasizing their receptiveness to client requests.
Experience and Expertise
Creative Spectrum: From creative direction to database development and everything in between, including HTML5/CSS3, mobile and app design, fintech, and e-commerce.
Technical Proficiency: Mastery over content management systems, SEO, content marketing, analytics, Laravel, and project management.
Development Services: Offering services in web development, WordPress, e-commerce, digital marketing, mobile app development for iOS and Android, brand creation, UI, and UX design.
Notable Clients
The agency boasts an impressive clientele list, including but not limited to Ralph Lauren, META, Crown Agents Bank, The Prince's Trust, South Hook Gas, and NHS entities.
Accolades
Recognized with prestigious awards like CSSDA Website of the Year, AWWWards, and the Innovation Design Award, signaling their commitment to exceptional web design.
Social Media Presence
LinkedIn: 262 followers
Instagram: 72 followers
Twitter: 320 followers
Despite a relatively low social media activity, their online presence is marked by quality and professionalism.
ID Studio stands out as a beacon of digital innovation in London's competitive web design landscape. With a portfolio that speaks to their creative and technical prowess, they position themselves as a versatile agency capable of adapting to various industries' needs. Their emphasis on listening to client ideas and objectives translates into bespoke digital solutions that not only resonate with audiences but also drive tangible results. The combination of their award-winning designs, high-profile client roster, and a wealth of experience makes ID Studio a compelling choice for businesses looking to elevate their online presence.