I feel like somebody has pressed the pause button in my life! Do you feel the same? Things are not the way they were or are not the way they were planned. Work from home is the trend of the future, we have been hearing this for a while. However, in 2020 enough people are working across different satellite hubs, offices, coworking spaces, home, cafes and backyard sheds.
Starting from mid-April 2020 work from home is a new global norm due to the COVID-19 pandemic.
The world has changed its working concept. Different trends are accelerating this progression. Getting ready to go to the office, the morning rush, booking cabs, rushing and catching metros all this is a kind of dream now. Our lives were changed overnight with a call for complete lockdown.
COVID-19 brought a sudden need for social distancing and forced everyone to work from home. Hours of commuting have been replaced by endless hours of staring at the computer, office conferences have moved online. Platforms including Trello, Slack, etc. all are abruptly the household names. The biggest change for many has been the concept of work from home. Almost the entire workforce is doing that now.
Some of us love working from home but others miss the rhythm and space of their office. We miss the interaction, the discussions (personal sometimes official). Additionally, a lot of people choose remote work because they believe that it makes their quality of life better and allows them to feel like a better parent, friend, or partner.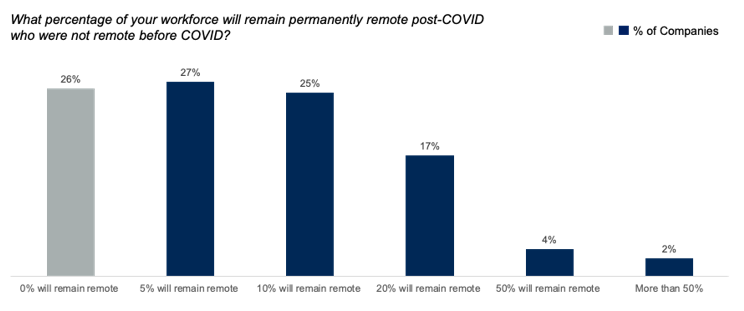 Don't know when but think of a situation when everything is back to normal. A crucial question remains- i.e. Is work from home here to stay? Is it just a fad, will it remain to be the only forced-choice made by companies in times of social distancing. Back in 2010, the concept of work from home was just thought to be an impractical experiment, but in this pandemic, it has turned into a serious reality. How many of you believe that it just might be the new normal, post the pandemic?

Tata Consultancy Services (TCS)
Tata Consultancy Services (TCS) recently said that as many as 75 percents of their 3.5 lakh employees will work from home by 2025. They called this philosophy 25×25, which means only 25 percent of their employees may have to be in the office to ensure that 100 percent is productive.
Positive vibes of working from home include skipping a hectic commute, increased chances of spending more time with our families.
The trend will continue since it saves companies money
This work from home shift is effecting the economy financially also. These days the economic climate is likely reflecting a severe recession and companies need to prioritize efficiency. Work from home eliminates a huge amount of office rents and the costs associated with the operations. If people are skillfully delivering from the comfort of their couch, why should companies make them commute, or ride crowded elevators?
Matured technology works pretty well for work from home
Current internet infrastructure is like a boon for us in these difficult times. It is supporting billions of people in running connected applications, streaming videos, screen sharing, etc.
Recruiting top talent
No matter wherever you are located or wherever you are planning to set up your business it's harder to hire top talents. Competition for the best professionals might be too high. In a smaller city, it gets much harder to persuade your prospects to move there and change their lifestyle for a new job.
However, building a remote working team provides you the flexibility to hire top talents from across the world. Employees expect remote work policies mainly while looking for a new job. Hiring top talent from different backgrounds, countries, and cities can help create a diverse team and give you a competitive advantage.
According to the surveys done by fyi Employees really, love their remote life.

Work from home myths
Past were the days when remote work used to be a challenge, but if done in a proper way it can rocket your team to success. I would like to bring forward some of the common remote-work myths you might have heard but that I have busted via data and my own experiences.
Remote workers are lonely & unhappy : Myth #1
Studies reveal that people feel happier and more productive when they have control over their schedules and their lives. The top reasons why people seek flexible work include work-life balance, family, time savings, and reducing commute stress.
Quality of communication diminishes: Myth #2
Another popular myth often associated with remote work is that it leads to bad communication. Contemporary tools like messengers, task trackers, cloud documentation, video conferencing, collaboration software, etc. allow you to create collaboration hubs that keep track of all your team's projects and interactions.
Remote meetings are ineffective: Myth #3
More prep work leads to greater efficiency. Remote meetings often require more planning in advance and are most effective as they create a sense of urgency.
Team culture is nonexistent :Myth #4
A company's culture is made up of the beliefs, values, behaviors, and attitudes shared by a team. Team culture is defined, not diminished, through remote collaboration. It's how people work together towards a common goal, and often it's the framework an employee uses to make decisions independently.
Over to you!
Work from home is no longer an alternative. For many companies, it's the first choice. Employees no longer need to rush in the morning to catch a train/bus. No need to suffer in a very crowded ride. No need to worry or feel anxious about being on time when there is a delay (trains and buses). We are more in control of our schedule (e.g. when to wake up, eat, work, play, cook, etc). Share your opinion about this new norm in our comments section.
Stay home stay safe!