Tricks and tips to be considered while launching a successful digital marketing campaign.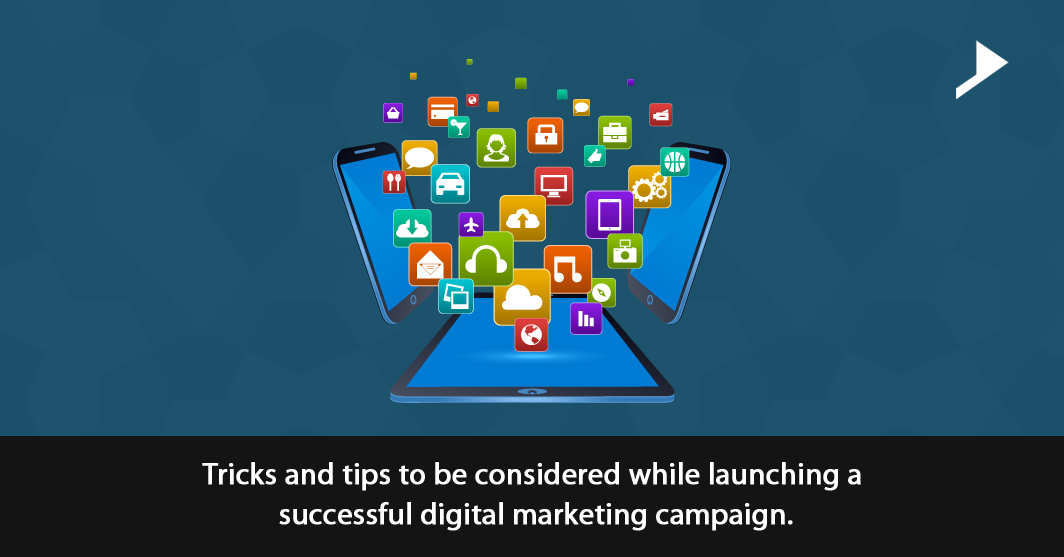 So you have already build up your website right! You have your products and service in place. Now you need to take the next step which is promotions and marketing. However I know you are in confusion of which marketing road to take off. There are number of marketing options you can choose from. I am going to help you out with some of the tricks and tips to be considered while launching a successful digital marketing campaign. As a digital marketing professional I am aware of the purpose of a digital marketing strategy for any company, is to force you through the process of researching the goals of your digital initiatives along with targeting personas and choosing the channels.
Ideal research and set your goal
While carrying out the digital marketing campaigns you need to first consider the most brilliant ideas which are floating around you before they get lost in the shuffle.
Expand your keywords
To be the best suited digital marketing campaign, we need to carry out effective research on keywords. This will make sure that the right person finds your brand online.
Build an outstanding landing page
To inspire your audience you need to give them a delightful and seamless marketing experience. What's in it for me? This should have more focus.
Perform an SEO audit
SEO audit needs an adaptive approach that has to be updated every 6 to 8 months. Optimize the site such as on page elements for the purpose of better rankings.
Discovering your ideal customer
Understanding the buyer persona is the most important aspect to be taken into consideration. Establish a lead scoring system and perform the data driven marketing. Conducting surveys can help you gather important customer data.
Choose the best marketing channel
Depending on the marketing channel strategy you select, it's your personal expertise that will have the most effect. Steps to select the best marketing channel includes defining your areas of expertise and skill, leveraging your existing email list and contact, plan the date you wish to kick off your campaign.
Find your sites strong points
Just take into consideration the thing which works and which doesn't work on your website. Your ad placements have to be optimized for the improvement of the overall site layout.
Start advertising globally
Even though localization of your website is a complex process this might be the edge to keep your business ahead of the competition.
What we do
We at Sweans are capable of creating outstanding digital marketing campaigns to provide effective digital marketing experiences ever. We always initiate our work by researching about the goals and then our experts help you to choose the channel with which a business can acquire results.
When we work on the digital marketing campaigns we measure our success not only through the engagements or the likes received but also by taking into account the Return on Investment (ROI) and indicators measuring the performance related to the companies. Our campaigns are mostly the blend of creativity and strategy. Our experts are always researching onto the development of effective social media campaigns, AdWords campaign specific to the objectives of an organization.