At Sweans Technologies, we work with clients all over the globe to broaden their reach, increase their ROI, and improve their conversion rates through a focus on user experience and strategy. Our cost-effective web and mobile solutions have helped over 2,000 clients reach their goals. Recently, our hard work has paid off – Clutch, a ratings and review platform based out of Washington, D.C., included us in their annual listing of the top agencies and developers in India as both a Top India PPC Management Company and a Top Web Design Company in India. Clutch's research covers thousands of companies in India and around the world, so it is impressive that we have been included as a top company in more than one segment.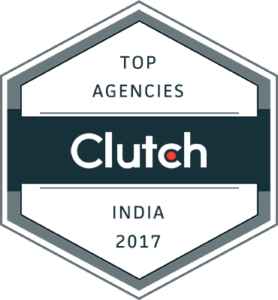 Clutch's research methodology evaluates each company on numerous qualitative and quantitative factors, from market presence to previous clients to proof of work. The most important feature of Clutch's research is their verified client reviews. Clutch analysts speak first-hand with current and past clients to gather information on how each company performs. These in-depth, verified client reviews help prospective buyers in the vendor selection process.
So far, our Clutch profile has received all positive reviews! We are happy to see that our clients are satisfied with our work, and that our hard work is providing notable results for our clients. Below are some excerpts from our most recent Clutch reviews:
"They have a really brilliant team working with them. I have two people who are in continuous contact with me. If I have something urgent to do I can just call them and tell them and get it done. They are really proactive."
"We've been working with them for a very long time. One of the reasons we continue the association is the kind of staff support and project support they've given us. I think it's always been excellent."
"Their design and input on digital marketing have brought a lot of value to our product."
We are excited to be featured in Clutch's research alongside some of the top developers and agencies in India. We look forward to improving our Clutch presence and to being included again next year.