In this digital age, local consumers are much more frequently going online to search for businesses in their area. According to a Google Study, four out of five consumers use search engines to find local information such as addresses, phone numbers, business hours, and reviews. For business owners, this is a strong indication that now more than ever it is important to have a robust online presence.
Every business needs to rethink how they will provide the perfect information to their customers before they even reach your website.
Google My Business (GMB), is a listing of your business operating information, review post and much more indexing the content you provide for consistency across Google Search, Maps, and Google+.
For example:  When you search Sweans, London you get the result as shown here.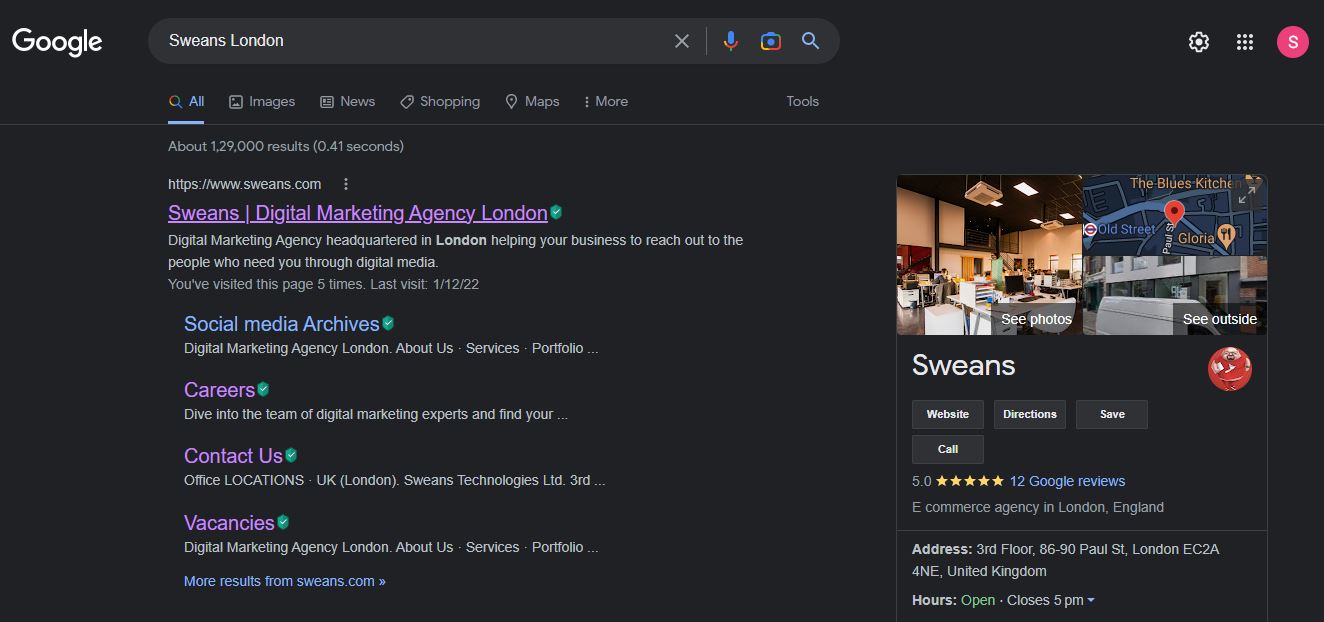 However, this is not just a place to find the information about your business rather it's a tool which can help you increase your revenue and provide valuable insights about your customers. Google dominates search and all the searches mainly happens on Google. Your customers find what they want on the first page of Google. A Google Study shows that 50% of the consumers conducting a local search on their smartphone visited a store within a day.
Let's explore best Google My Business features which will positively impact the online visibility of your business and generate sales.
Google Descriptions
Google re-propelled visible business descriptions inside the professional resource.
Descriptions used to be a visible component inside GMB, yet like numerous decent things advertisers' have access to, it was abused and suspended. Well . . . it's back!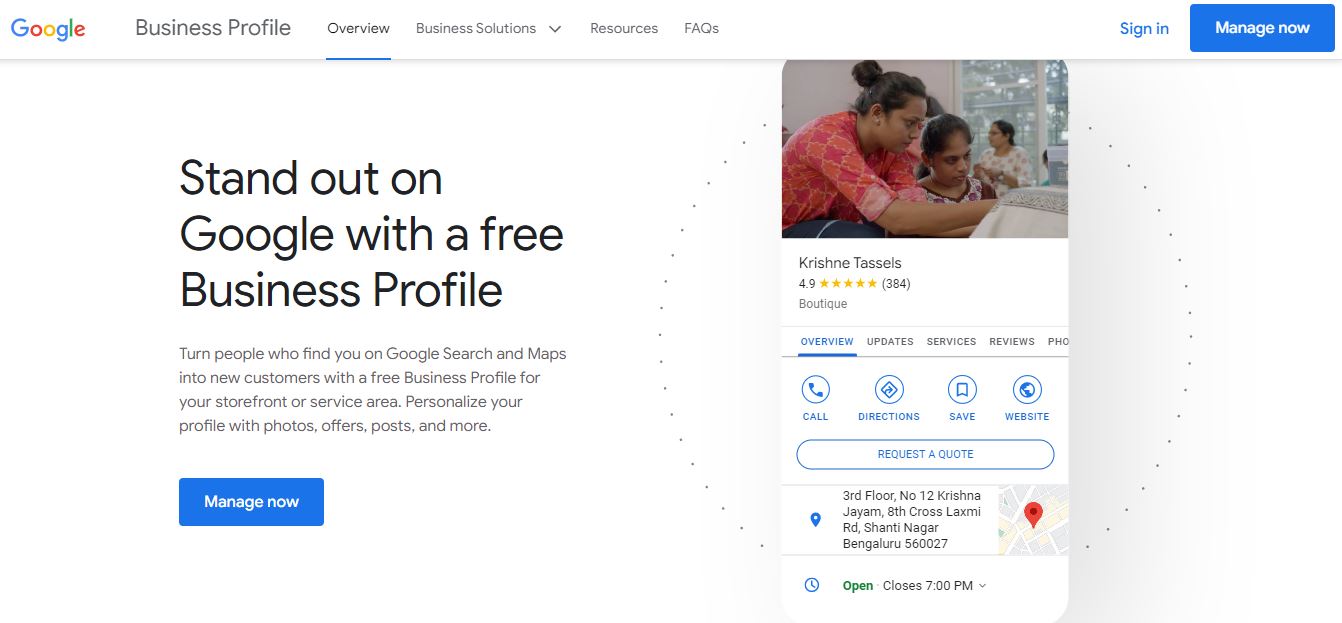 Entrepreneurs would now be able to incorporate a 750-character depiction of their business. You don't need to incorporate a description that long, as it will get truncated, but at least provide a unique paragraph that describes your brand and what you sell.
The information you provide will be indexed by Google Search Maps and Google+, providing a foundation for your local SEO. Make sure that there are no inconsistencies in the information you provide.
Google questions and answers
This feature allows the customers to ask a question directly within the business listing.
Questions ranging from special queries related to the offers your have in your store, some of the one-word comments or any of the obvious questions based on your store hours.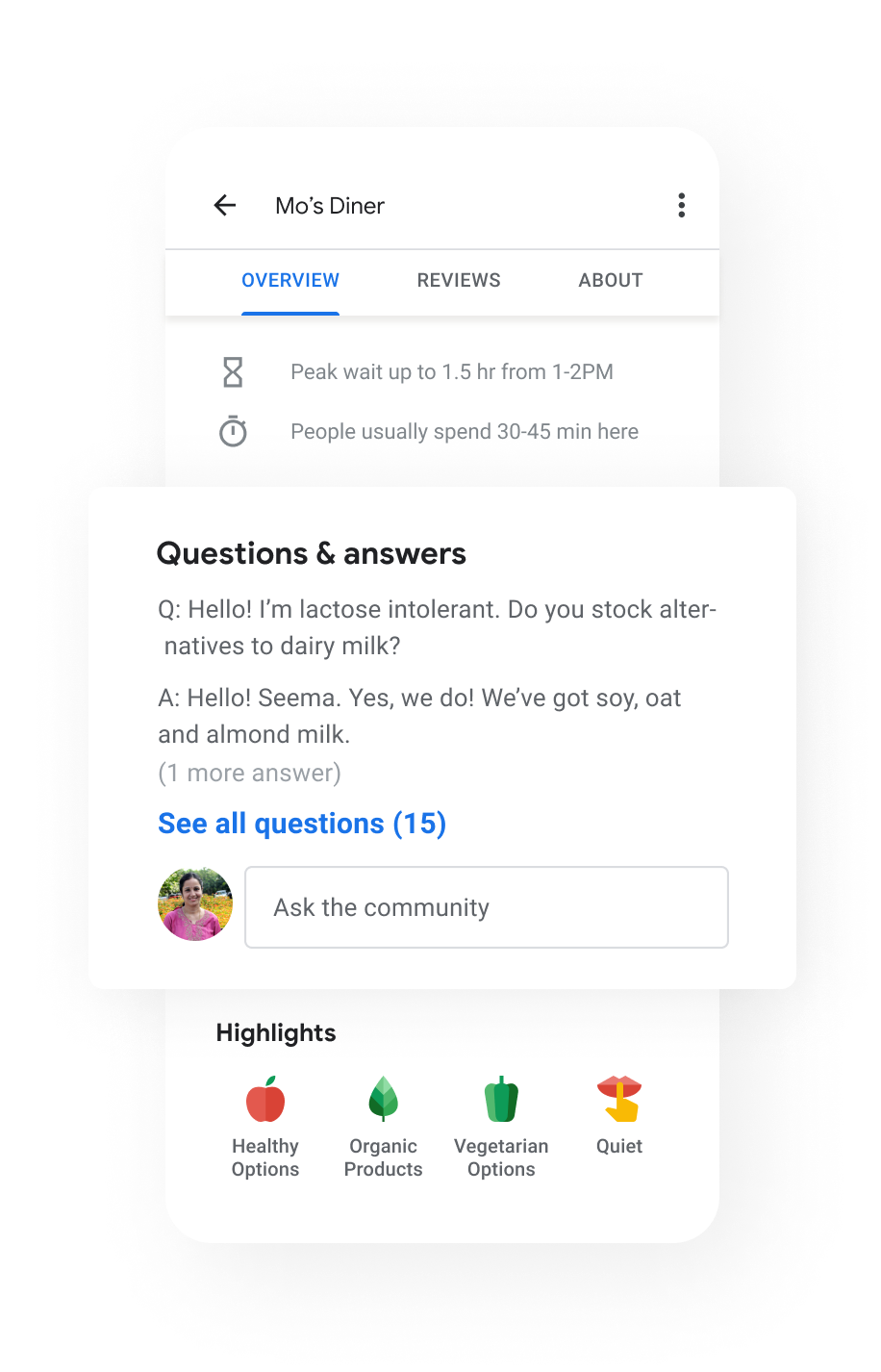 All these questions can be up-voted which will allow business owners to answer questions directly. A pro tip for using this feature is that you must think about how to seed frequently asked questions through Google My Business. Its not that as a business owner you should yourself seed them, rather your friend relatives can be the perfect option for the same.
Book an Appointment
Google My business allows the business owners to include the link so that they can directly make an appointment from Google Search or Maps.
To add an appointment URL to a GMB listing just go to the URLs section and enter the URL in the appropriate fields.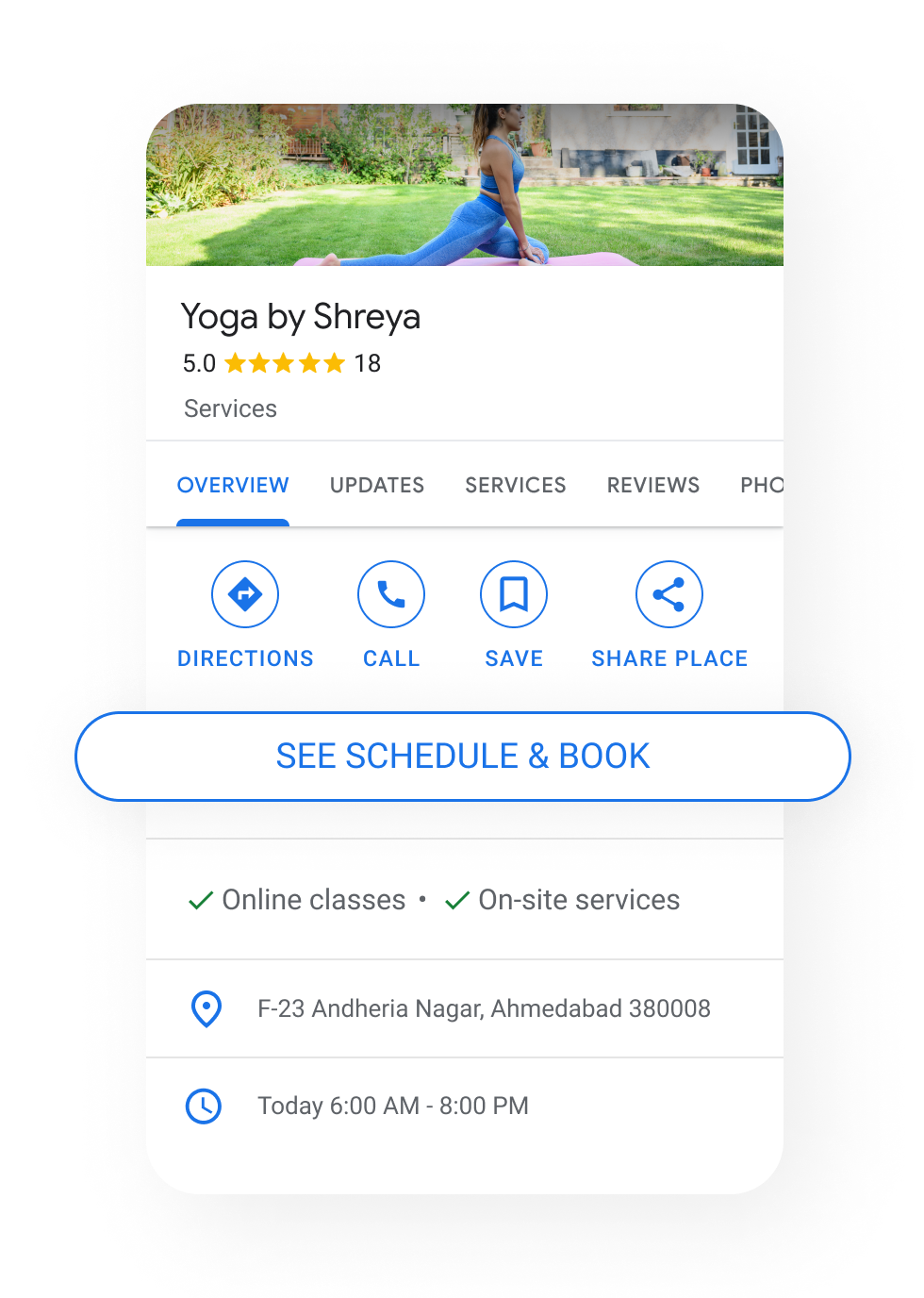 We suggest placing a link to your website's "Contact Us" page. Once you have added the link, be sure to click on it to make sure it works.
Speak directly through Messages and chats
Google my business now provides you the chatting opportunity with the clients directly.
To use this feature, you must go to the "Chat" card in the "Home" menu and enter a phone number that can receive SMS messages.
While using this feature you must make sure to respond as promptly as possible. This is because your average response time will be displayed. Businesses can receive messages after their open hours too.
This feature can be toggled on and off according to your requirement.  Do not request any kind of sensitive information via the Google My Business messaging feature.
Small Thanks with Google
This is a new tool which enables businesses to turn all the positive reviews into the free posters which can be shared and printed online. This feature highlights the best reviews.
To create a poster, you have to go to smallthanks.withgoogle.com, enter the business name and select it when it appears. The business must have some 5-star reviews on Google for them to appear. These are free and easy to use encouraging clients to give their reviews.
The platform will show some poster examples that can be selected as they are or can be customized. Google aims to see user interaction with its products and helps business owners to increase their online visibility. Potential customers can find, engage and review the businesses in their local area.
 Share your business updates by adding Google posts
Google opened its post feature to all the businesses in 2017.
This new feature lets you share your latest product release, announcements or any upcoming event.
Examples:
A post highlighting your newly launched product images
Post showcasing events
This is an easy way to share an image and the 100-300-word description which is shown up in your listing. With a simple process of just going to your Google My Business dashboard and by clicking on posts you can push out a new post for your business. Users can draft content directly on Google. The post content will appear in Google Search and Maps results.
But be careful, these posts will disappear after the 7 days of its posting and that's the reason it is important that you post should be timely and hyper-specific. These posts can be utilized to integrate into your marketing plan and examine their impact on your business.
Conclusion:
Google Search is an influential doorway through which customers can find your business. Google My Business positions your important business information in front of the potential customers looking for your product, service, or experience. If you have not claimed or optimized your Google My Business Listing, then you might be missing out a huge opportunity to manage interactions with your customers.