Imagine a situation where you are actively reading an interesting Facebook post on your mobile and suddenly you remember that you have to recharge your Mom's number. Don't worry, Social networking giant Facebook has rolled out a superb feature in India which can help you to recharge any of the prepaid mobile numbers. You will not have to leave the platform for doing the recharge activity.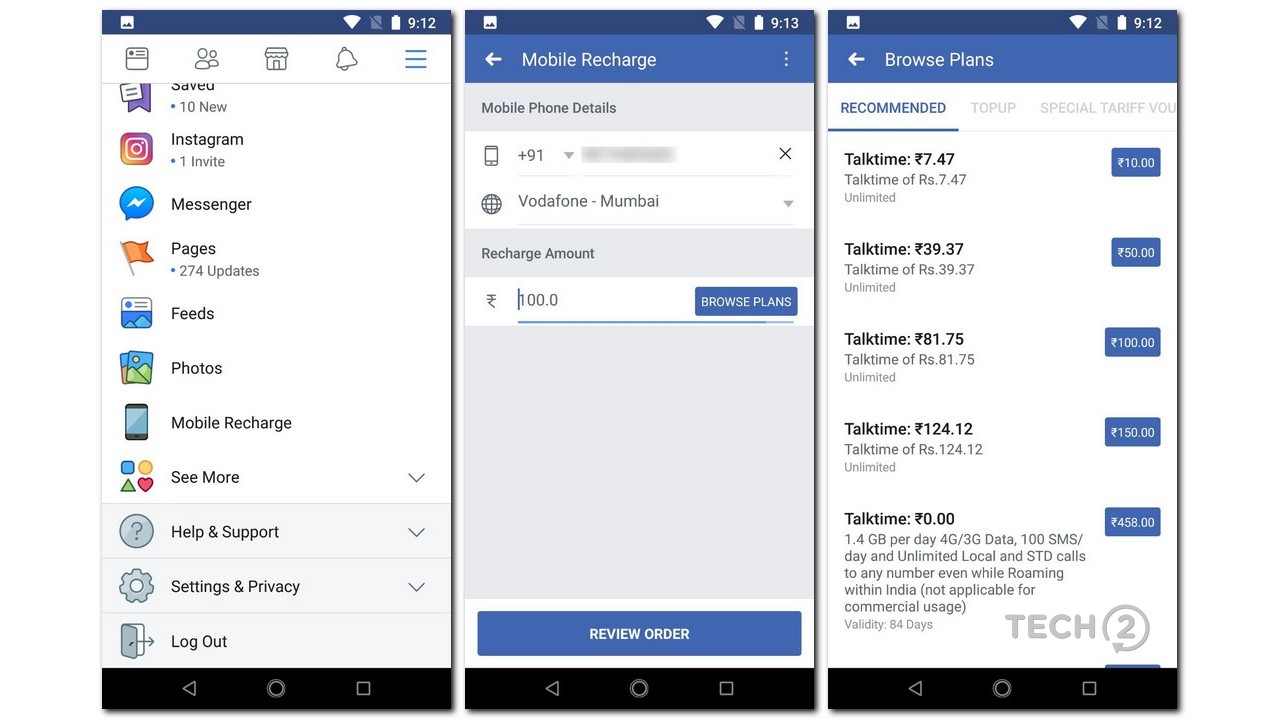 (Courtesy: Facebook)
Go to the three horizontal lines (≡) next to notifications tab and select the 'Mobile Recharge' section. Tap to open the page and you will then be greeted by a splash page explaining how the new feature works. Remember you need to have a latest version of Facebook's Android application.
Select your pack and you will be redirected to the "order details" page. Hit 'place order' and follow the required steps and easily complete your recharge process.
You will be directed to choose a plan and pay for the same. Payment can be made with your debit or credit card and believe me its safe, secure and free. Facebook currently supports Visa and MasterCard only.
Detailed steps have been jotted down for my viewers understanding:
Tap on the three-horizontal line button next to notifications
Look for 'Mobile Recharge'. If you don't find it in the list tap on 'See More'
You will see a screen with a message saying, "Choose a plan and pay with your debit or credit card, its fast, secure and free." Tap on 'Recharge Now'
Enter your mobile number on the 'Mobile Recharge' screen
Facebook will automatically detect your operator, but you can change that from a dropdown option where it lets you choose from Airtel, BSNL, Idea, Jio, MTNL Delhi, MTNL Mumbai, Tata Docomo, Telenor and Vodafone
Enter the amount of recharge you wish to do. If you are not sure of the plan, tap on 'Browse Plans'
You will find various plans segregated based on what they offer such as: Full Talktime, 3G Mobile Data, Special Tariff Voucher, Topup, SMS, etc. Select the plan you wish to purchase.
Tap on 'Review Order'