Previous years have taught digital marketers how to keep up with the competent techniques of internet promotions. User preferences for Internet, fashion and technology changes in a flash. Traditional tactics of marketing have been transformed into online tactics. The trends for 2016, and you'll see them in a moment, it takes creativity and an analytical approach to execute these trends, but it is totally worth it In this tech savvy world consumers can expose themselves to the brand new products, services and digital innovation in the markets through internet browsing. They are surrounded by huge number of devices, social media channels and different platforms every moment.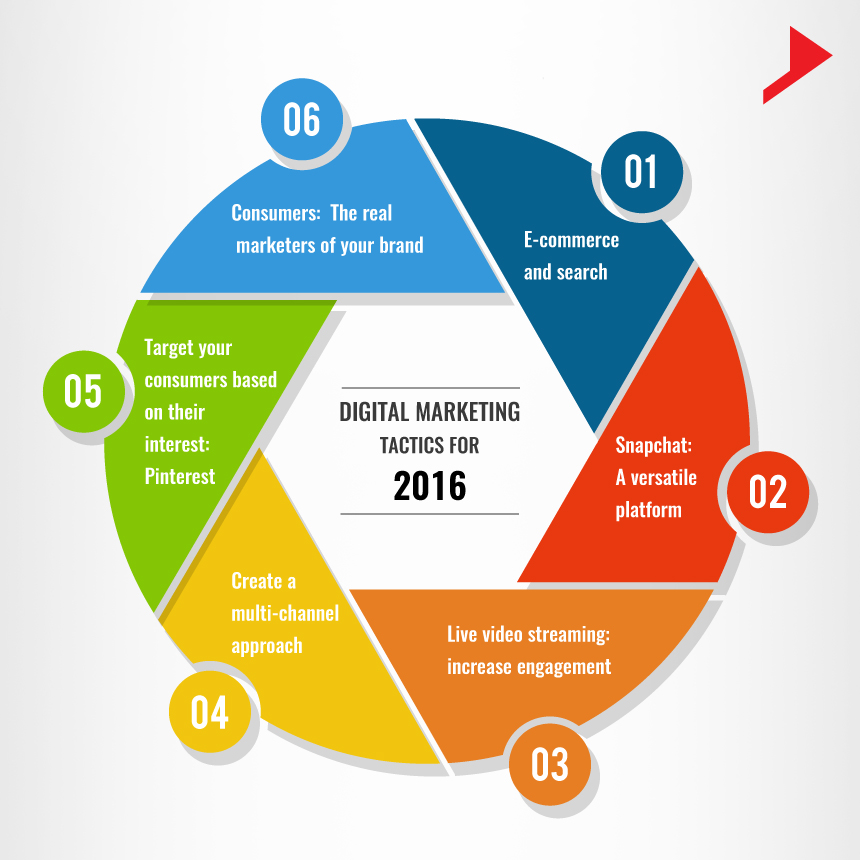 E-commerce and search
Just imagine the situation where you are "googling" and buying products through the Facebook messaging app? Isn't it awesome? This will definitely help you in using it according to the need of your client or the customer. Facebook is carrying out the researches to bring forward their own search engine which can result in easier and stronger search capabilities within the social media. This will help brands to get automatic boost with these search capabilities. Interaction with the customers will become very easy for the companies through this Facebook messenger app. Customers can also receive notifications, buy the preferable products online, and inform their friends about their purchases etc. all without going to any e-commerce site.
Snapchat: A versatile platform
A fun mobile app gaining rapid attraction as one of the top social media channels is Snapchat. Digitally savvy users and thousands embraced this app for sending videos, photos, drawings etc. If you are not aware of what is Snapchat then it's a video /photo messaging app which allows users to take pictures, record videos and send them to the contacts. Snapchat has been used by very few brands as a medium of marketing. But in 2016 you won't be able to ignore this app as this will help you to create integrated campaigns of marketing which offers exclusive contents for the young generation. Create fantastic teasers for your products with videos and images that have the existence only for few seconds so that your campaign gets exclusivity which is loved by the consumers.
Live video streaming: increase engagement
Videos are now a days getting much acceptance in the group of the consumers and as the technology is improving day by day it is becoming an integral part of the marketing strategy. There are number of ads created with an intention to attract more users. But are all those ads successful, are they able to grab the attention of the consumers? NO, not many!! So how would you do it?
It's easy with live video streaming which allows the brands to help their consumers get a much better brand experience. Recent apps namely Periscope and Meerkat gives you an opportunity to live stream videos through your mobile and share it instantly with the twitter audience. Users can give their comments on the videos at the same time. Live streaming can be very useful for live Q&A, new product releases, promoting company culture and so on.
Create a multi-channel approach
Multi-channel approach helps to provide the consumers a fascinating shopping experience whether they are shopping online through desktop or mobile device. The vital aspect to be considered while doing business is to target consumers with the right message at the right place and right time. Digital remarketing online is done on the basis of the browsing history of the consumers in the same way you can also start digital remarketing in store also. Disney has created their multi-channel approach through their mobile responsive website wherein the users can book their trip and then using the My Disney experience tool plan the entire trip starting from booking of hotels and lot more related activities.
Target your consumers based on their interest: Pinterest
Pinterest is also getting a wide exposure in the marketing sector. Consumers are getting used to buyable pins and still there are more to come. Pinterest is also introducing the new and promoted pin called Animated Cinematic Pin which will prove to be useful for the brands to target the specific person according to their interest. The attractive feature of this pin is that they are set in motion when user scrolls and stops when the user stops scrolling. This gives you an option whether to watch the video or not.
Consumers: The real marketers of your brand
It's quite natural that you will definitely think of buying a product if your friend tells that he has used the product and it's perfect. You might also feel to try it yourself because it's your friend who has told you. This phenomenon should be utilized by the brands to the great extent. Users experience can be mainly shared as the content and let your target audience market your brand for you. Different marketing channels including Pinterest, You Tube, Meerkat , Periscope and Instagram all can be utilized.
Conclusion:
All the above tactics for reaching and engaging the target audiences will revolutionize the digital age and will certainly create opportunities for marketers and consumers.