Now a day's people are mostly busy, spending their time online and in just handpicked apps including Facebook. Advertisers are facing a real challenge to tell compelling stories of their products and brands on mobile in outstanding ways that are enjoyable for audience and also effective for the business. There are number of surveys which shows that people are discovering products and the brands in mobile apps. Hence the need of this hour is that advertisers have to look for new and creative ways to share information with the people on different apps. Building great mobile experiences opens up new possibilities for advertisers. In the past days, the only media used for sharing the brand and products was the websites. But it was seen that the website which loads after someone clicks on the ad has a very slow loading speed which directly creates a frustrating experience for audience. Recent technological development has changed the trends. Today's advertiser needs a better way to share all the information after people click on their ad. Information they need to offer has to load quickly in a beautiful and mobile friendly manner. It should allow audience to take actions quickly.
Bring your stories to life:
Canvas: Full screen, immersive portable ad experience, post clicks, on Facebook which loads in fraction of seconds has been built in order to take care of the issue. It's really another space for huge thoughts on Facebook. It was made with the contribution from the innovative group and is intended to help organizations to tell stories and showcase the products on cell phones in an exceptionally attractive way. Canvas is accessible to all the advertisers around the globe to tell the brand story and to promote their products on cell phones in the most ideal way ever.
A feature designed for mobile:
It helps advertisers to achieve all the objectives by giving their businesses an entirely customized digital space to build multimedia stories. Here advertisers can use a mix of images, text, videos, and different call to action buttons for beautiful and effective brand building, increasing their product experiences on mobile. Canvas helps users to enjoy a digital walk through through different digital stories in an easy way. They can also swipe through the carousel of images, tilt to view panoramic images and zoom them to view in detail, making the Canvas experience, engaging in a perfect manner. The technology used by Canvas helps images and videos to load quickly as much as 10 times faster than the standard mobile web.
Canvas is actually a mobile only experience which works both on iOS and Android. Learn how to create a Canvas
Use of Canvas from the advertiser's point of view:
Canvases are very easy to create and are vital for helping advertisers to achieve their goals of promoting and strengthening their brand and products. Some of the well-known brands have utilized Canvas which has helped them to drive profits.
Sweans opted Canvas for our client Tapeytapey:
Sweans has applied this Canvas feature for our valuable client Tapeytapey as a part of the digital marketing strategy. There was a huge increase in the likes and shares with the use of Canvas.
Tapeytapey got an immersive approach to contact individuals without making them leave the social network. At the point when users tap the Facebook News Feed ad of Tapeytapey, associated with Canvas, it opens a full-screen, rich media page within Facebook as opposed to driving clients to sit tight for mobile website to load. We simply paid for the same News Feed promotions as usual, however got an opportunity to construct a superior destination for the post.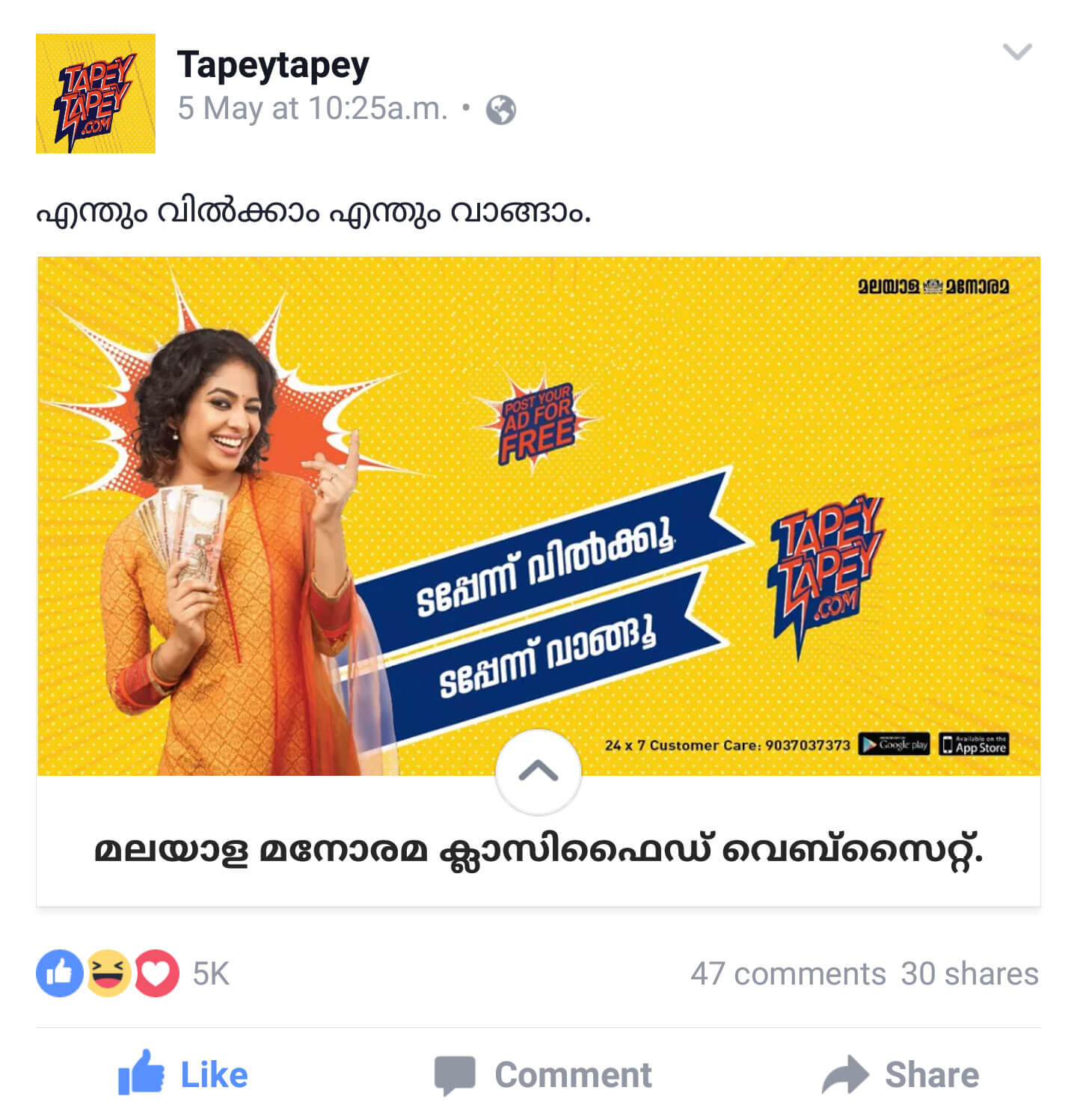 Conclusion:
So what are you waiting for! Start telling your stories in a beautiful way with Canvas.This is the feature which will not frustrate the audience with long loading time or tempt them to leave Facebook. Canvas can help to keep your audience rattling around and seeing more of its News Feed Ads.