6 motives to use WordPress CMS for Corporate Websites.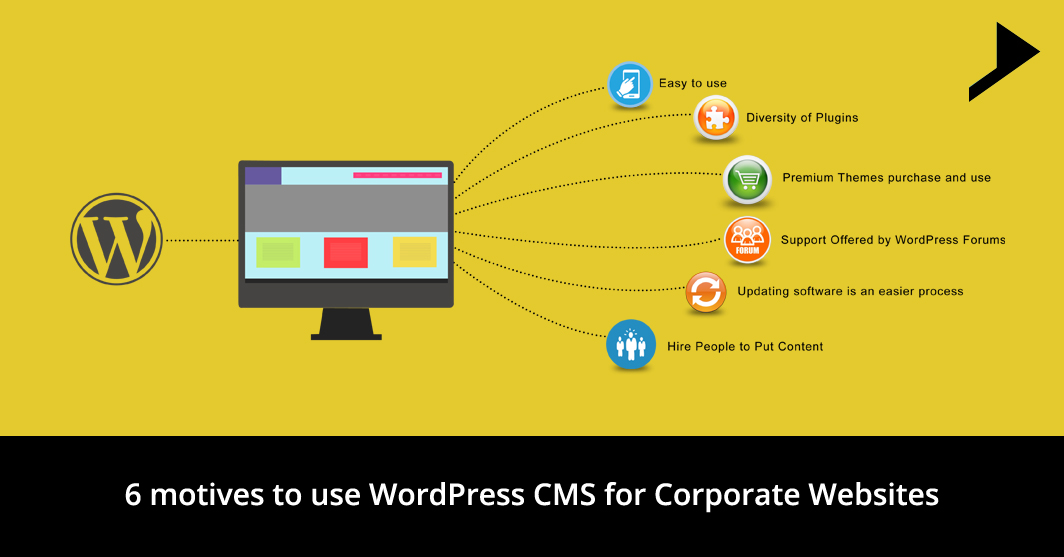 Number of reasons help WordPress to become the most favorite platform in the market for development of the corporate websites. Content management system is one that you can be pleased with due to its fame, extensibility and simple usage.
1.Easy to use:
WordPress is not hard at all to install and make work for you. There are sufficient assets for WordPress, to show what it takes to use it. Hosting companies are always there to make things significantly easier than you installing it yourself.
wordpress.org can help you to know more about the WordPress and its use.
2.Diversity of Plugins:
Plugins play a very vital role in enhancing the functionality of WordPress which helps you to make posts and pages after installation of WordPress. You can also increase the functionalities to do anything you need, a website should do for you. Integration of the software's can be added to the external systems. There are varieties of plugins helping you to add cart to your website and sell any product you wish to. You can also know the date and time when it was last updated to get an idea if it's still supported or not. Over 10,000 plugins are available to help you in adding all kinds of functionalities to your site, like  sharing through social media, SEO, photo slideshows, and much more.
Get acquainted with the plugins here: WordPress Plugins Directory.
3.Premium Themes purchase and use:
You can change the design of your websites quickly with the help of the themes available in WordPress. There are thousands of paid and unpaid themes which helps the website to look graceful and professional. Web Trends always keep on changing. WordPress Developers always release new version of WordPress. Receiving updates on the Latest version of WordPress is very important as new version always comes with improvements and bug fixes.
Themeforest will help you to get well versed with the available themes.
4.Support Offered by WordPress Forums:
An open source platform having a group behind it that works day and night to make sure, it keeps current with innovative advances and interest. There are individuals on the support forums carrying out the discussions for the site, and there are communities gathered around WordPress all over the Internet. You can search any information related to the WP CMS through the help files online, and that came with your download. Then if it's unanswered, search to see if anyone has asked it before.
WordPress Support can give a solution for any of your query related to WordPress.
5. Updating software is an easier process:
Your dashboard will have updates and they are to be taken care of, so that your site becomes safe and secure. Updation also helps you know the new features which are launched by clicking couple of buttons on the dashboard. Number of symbols on your dashboard indicate the updates and helps you to get them without too much of issue.
6.Hire People to Put Content:
Hiring people to write the content and to post them is the need of the hour as corporate business personals will not have time to sit and create their content. Content developed can be easily managed with the WordPress platform.
To conclude, leverage all your content in your website and push it out via social media marketing and SEO (search engine optimization).