As 2023 is winding up, it's quintessential for a web designer to familiarise with the top web design trends for 2024. Some people say that design trends come and leave. However, I believe you should incorporate the latest web design trends into your marketing strategy. As you know, your website is the powerhouse of your business. It helps your customers across the globe to see and learn about your products.
If you like to stand out from rivals, update your website regularly with bespoke web design trends.
Due to the ever-evolving marketing landscape and the emergence of new technologies and design approaches, it has become a daunting task to predict the top web design trends for 2024.
Nevertheless, our global team of tech experts has compiled a detailed list of top web design trends in 2024. Let's dive into each of them!
Table of Contents
List of Top Web Design Trends for 2024
Web Accessibility
Interactive Elements
Site Health
Nostalgia
Moving Typography
Cinemagraphs
Minimalism
Artificial Intelligence (AI)
Mobile Ready Designs
Dark Mode Design
Claymorphism
Augmented Reality (AR)
Colour Gradients
Web Accessibility
Accessible web designs are the top web design trends for 2024. Web Content Accessibility Guidelines (WCAG) are becoming mandatory for businesses which are open to the public. However, web designers should understand the vital aspects of accessibility to make their user interface design and visual design more accessible for persons with disabilities (PwDs). When your website is precisely designed and coded, everyone can easily access and experience your products and services.
According to reports of 2022, the website design of 2019 has accessibility barriers. It makes it difficult or impossible for people to use. I say we should consider accessibility right before we think about a solution. Businesses should ensure that the websites are perceivable for a wide demographic. For that, closely listen to your users rather than designing the website first and questioning it second.
Interactive Elements
In the modern multiverse of web design, interactivity will be the top web design trend in 2024 due to one reason: technological advancement. Thus, this trend will gradually but surely become one of the pivotal elements in web design. If you're a designer, make a solid foundation in interactive user experience to boost your career. Based on a recent study by digital marketers, they found engaging interactive web designs are twice as capable as stationary content.
I hope you've heard about the Material Design developed by Google. It suggests that designers should create intuitive and meaningful user experiences. Some interactive features like hovering, rolling over and progress bars will help you achieve this. These interactive elements can help give your website a solid foundation in the competitive landscape. It also makes a strong message to prospective clients and builds your brand identity.
Site Health
You can show the site health using two options: Status pages and Status badges. Showcasing your site's health to users will enable them to give a crystal clear idea about the current status of your website. It showcases transparency and creates a notion of trust for the users. Site health is crucial to avoid hindrances to website surfing and complete the user's tasks smoothly. They feel more confident to use your site, and you can retain the customer.
Not only is it beneficial for users but also for website owners. It can quickly identify and resolve issues affecting your website's functioning. You can easily track and fix the web issues seamlessly when you display and track your site health status. It can help minimise downtime and ensure optimised website performance. Ultimately, it helps enhance user experience and increase brand loyalty. Hence, site health is one of the top web design trends in 2024.
Nostalgia
We are all fond of memories. From product design to web graphics, nostalgia creates tremendous buzz in the design world. During the COVID-19 pandemic, the government's stay-at-home orders created loneliness and depression in adults and kids alike. In order to cope with the lockdown scenario, people started reminiscing happy memories from the 80s and 90s. It led to the rise of a new trend in marketing, and brands began to kick off their strategy with nostalgia.
Brands could create instant connections with their prospective customers using this top web design trend in 2024. By gently evoking nostalgic memories in their customers, brands reflected their values in a skilful and meaningful manner. One of the most common design techniques includes using classic colour schemes, typography and imagery to resonate with the old times. Nostalgia is both relevant and effective in building emotions towards your brand.
Moving Typography
Moving typography is often referred to as kinetic typography or moving text. It is a bespoke animation technique which gained momentum in the early 60s. Kinetic typography became popular when motion feature films began using animated title cards. Web designers consider moving typography as the top web design trend in 2024. They have already started using this design trend to grab the attention of website visitors similarly in the feature films.
With the moving typography, you can allow the users to stay on your home page longer. You can use the full potential of moving text by emphasising the essential sections and smoothly digesting your content for your readers. You can also delight your customers when they browse the home page with engaging and visually attractive text.
Cinemagraphs
Motions are the top web design trends in 2024. But cinemagraphs are no exception. High-quality videos and GIFs can increase interactiveness to users. These can move on continuous smooth loops, which can add motion and create a sense of interest in your users. If your website has a lot of static pages, try incorporating these design elements to create attention. It can draw your visitors' eye into the complex layouts of your pages painlessly.
Full-screen loops were quite popular in the past year. But in 2024, you can find small animations in the complex layouts. These elements can draw the eyes with enthusiasm and help your visitors keep reading your page.
Minimalism
Do you like a flashy website filled with bold colours, or are you someone who loves minimalistic designs? For sure, 90% of us like minimalism. That is why minimalist designs are the top web design trends in 2024. In minimalism, designers highlight limited colour palettes and only essential elements to get to the point straight. Even though it offers several benefits, you should watch more closely to make an equilibrium with all the design aspects.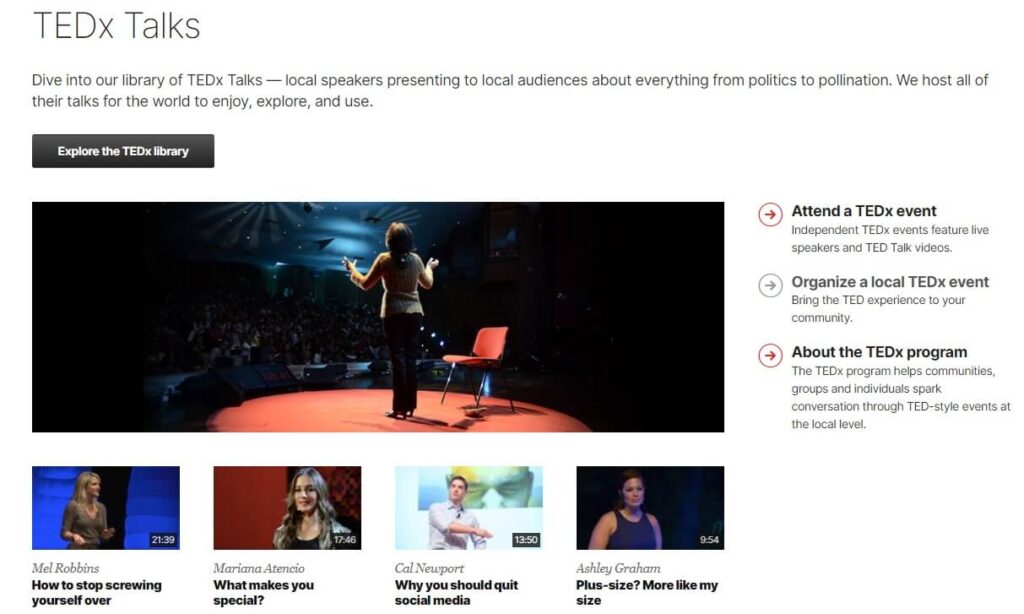 Take the example of the TED Talks website using minimalistic designs. The first fold of the home page is visually appealing to a wide demographic, and that too, without using so many design elements. It also contains ample white space around each video, making the design more user-friendly. This approach ensures that the website visitors receive only the essential information. I personally think minimalism is going to be one of the top web design trends in 2024 for designers to watch out for.
Artificial Intelligence (AI)
If you like it or not, AI is here to stay! However, it does not necessarily mean AI will replace human designers. Even though AI design tools have come a long way in refining their technology, human intelligence is irreplaceable. Creative professionals can use the assistance of AI to brainstorm design ideas. In the current era of technological advancement, chatbot design is a top web design trend in 2024.
Basically, chatbots are virtual assistants. If you are a UI/UX designer, you may come across a client who requires a chatbot design. Chatbots give answers to your queries in an efficient manner when a human customer service executive is unavailable. You can develop a successful chatbot to help engage users with a good design. If you are not using AI, get adaptive with AI design tools, which can help produce fruitful decisions in very little time.
Mobile Ready Designs
Mobile-friendly designs are essential in today's competitive landscape. If you are an eCommerce website owner, you should know that 67% of users are more likely to purchase on a mobile-friendly website. According to a digital data report in the United Kingdom of 2023, mobile users accounted for 67.55% of traffic, whereas desktop users 29.46%. People use mobile phones to check restaurant menus, make reservations and handle other crucial tasks. If your website is not mobile-ready, you might lose significant revenue due to an increased bounce rate.
If you are an aspiring designer or you have been designing websites for years, always try to create responsive websites. A responsive site will adapt to screens of various sizes. From smartphones to tablets, give your users positive experiences. Remember to incorporate mobile-friendly call-to-action buttons, allowing users to synchronise with their thumbs rather than their index fingers.
Dark Mode Design
The dark mode is more than just a top web design trend in 2024. It is an advanced feature we can offer to website visitors that can improve the overall website appeal and performance. Medical journals highlight that using dark-mode design attributes can reduce eye strain for people with high screen time. It can also improve the battery life of media devices.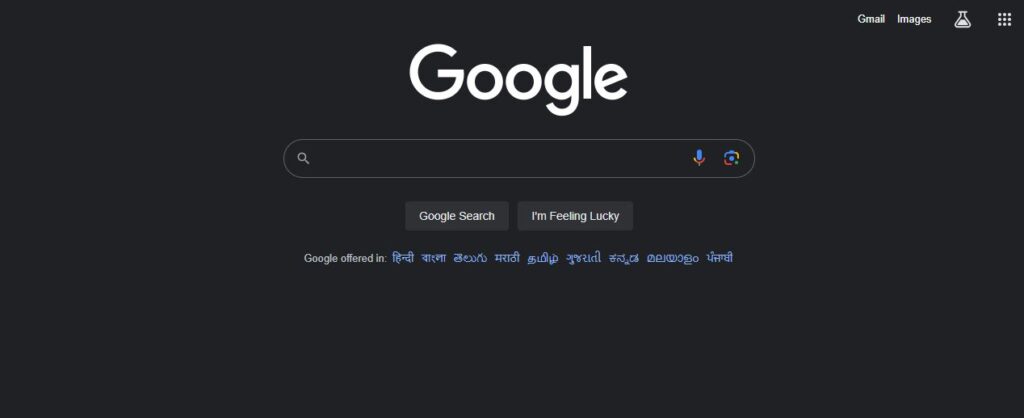 A plethora of websites, including Google, provide dark mode settings. Google enable you to choose a dark or light mode based on your preferences. You can also ask the website to mirror the system settings on your device.
Claymorphism
Claymorphism is the top web design trend in 2024, widely populated by graphic designers. It is becoming a superior buzz in the design world due to the rising popularity of vibrant typography, 2D and 3D illustrations and absolutely colourful designs and gradient-inspired landscapes. Even though this top web design trend in 2024 has a positive impact, designers, for the time being, should use this case for call-to-action buttons, hero illustrations, cards, charts and toggle elements.
If you are considering Claymorphism in your design, then you should know this. It may end up looking a bit childish. Suppose you choose the wrong colours or shadows. It will add a kiddo vibe, compromising the sophistication. So, it is quintessential to find the perfect colour palette. Find equilibrium with visual hierarchy and select the ideal contrast to ensure readability if you wish your website to be WCAG-compatible.
Augmented Reality (AR)
Augmented Reality mixes computer-generated content with real-world elements. It is one of the top web design trends in 2024 to make an engaging experience for website visitors. In the current technology advancement scenario, various brands employ AR for their websites. A simple and familiar example of AR is the Virtual Try-On feature on Amazon.com. It enables shoppers to check out the product of their choice based on colour combination and style before placing their order.
AR is all set to become extensively used in the forthcoming future. It can help create an immersive and interactive platform for engaging users. If you are a business running products leveraging 3D technology, you will find AR extremely useful. It is also widely recognised in eCommerce and online food ordering platforms. AR is gradually gathering momentum in this competitive landscape.
Colour Gradients
Colour gradients are the top web design trends for 2024. In the last few years, you must have seen a fair share of colourful gradients on social networking sites like Instagram. If last year was all about monochromatic gradients, this year, you can find multi-coloured gradients.
When choosing colour gradients, it is crucial to find a colour scheme that best suits your brand. What you have to do is: First, choose a primary colour, then complementary colours. Based on your creativity level, you can customise your colour palette.
My Final Verdict on Top Web Design Trends for 2024
As you now understand the top web design trends for 2024, try to learn and include new design trends for your online website. Adding superior design components can enhance your UX, leading to higher visitor engagement, more clicks and even more sales revenue. You can check out our works page, where our UI/UX designers have performed outstanding results for our clients across the globe. We have become an award-winning web design agency in London, offering product development, engaging design and user experience. We enable your sales growth to turn your business ideas into remarkable digital triumphs.